Oversized residential furnace and air conditioning is not a good investment
Posted October 10, 2022
-
Updated October 10, 2022
How is HVAC similar to American culture and society? Well, the first image is of a furnace that's approximately 10 years old. And now it is heading to a landfill. It was oversized, and it never achieved the efficiency that it was engineered and manufactured to be. 10 years ago, some salesman, dressed in slacks and and a button up collared shirt sold this as a high efficiency furnace. Then they sent a guy like me out to install it. When you work for a company like this one, (I did work for that company almost 20 years ago) we do what we are told. When you just do what you are told, you develop habits, and you also form ideas and opinions, as well as gaining confidence and practices. You don't question anything.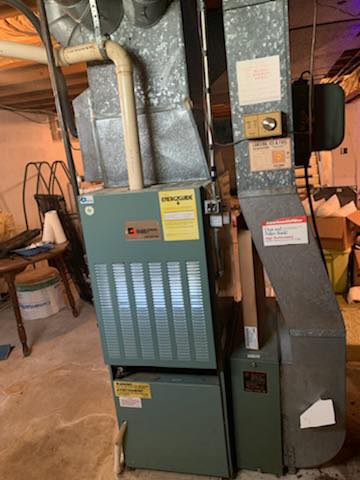 When I started All Star in 2007, I only knew what I was taught. I quickly learned that there was more that I didn't know, than there was that I did know. It never occurred to me that as an employee, that I wasn't being given the best information, or that we weren't doing things to the highest standards. I had to unlearn what was taught and I started to figure out was that most people don't do that. The status quo is to keep doing what you've always done because on the surface, everything is working.
The problem with oversizing equipment is that, for starters, a lot of people purchasing equipment never get the desired efficiency, which ends up costing more because it uses more fuel than it should. Not only that, but it puts more wear and tear on the equipment because it will start and stop frequently. It's kind of like a high traffic door vs a door that rarely opens or closes. The high traffic door will need to be replaced much sooner than the door that stays closed. So this furnace at 10 years old, used much more fuel, and it opened and closed so much, that it didn't last.
American culture has dictated that bigger is better. Bigger trucks, bigger homes, bigger bank accounts, heck why not, bigger furnace.
I have been in the practice of installing smaller equipment since 2007. I'm installing equipment that replaces the heat closer to the rate that the home is losing it on the average coldest day of the year, to be able to maintain a desired temperature, or equipment that is removing heat close to the rate it's gaining on the average hottest days of the year. Not only will you get better efficiency, but you'll put less wear and tear on the units, they'll last longer, you'll have less repairs, and you'll get much better comfort.
I can't tell you how many times we've made a huge difference in comfort, particularly with 2 story homes that have staggering temperature differences between the 1st and 2nd floors with smaller equipment. But the challenge is that before we were able to do that, we had to convince the people living there. Getting multiple bids has always been encouraged when you are spending thousands of dollars. The problem is that it's not always apples to apples, ESPECIALLY in the heating and cooling business, particularly in Lansing, MI.
Let's say you get 4 quotes, and 3 of them are from local, we'll known companies, and the 4th is from All Star. You tell everyone that the 2nd floor is much hotter in the summer than the 1st floor. Logic says the AC is t big enough, so the other 3 companies have already said they be willing to put in a larger unit, but Larry from All Star comes out of left field and says he wants to put in a smaller unit. Well that just sounds crazy. Larry must be wrong. These other 3 companies with a combined experience of 150 years vs Larry and All Star with 15. There's no way Larry can be right.
I get it, that's a tough call. You either trust Larry or you don't. But after an explanation that describes exactly why it will work better, you'll at least have a chance to understand why it will work better.
We've been conditioned to accept that bigger is better. The funny thing is that the second picture is much smaller equipment than the first. The company that installed the equipment in the first picture also gave a quote for replacing equipment they installed 10 years ago. They also have a gimmick of BOGO, buy a furnace and get a free air conditioner. But only after they Jack up the price of the furnace. And they quoted bigger equipment too boot.
American capitalism is an enigma wrapped up in a conundrum.
We'll just keep doing what has made us the best residential HVAC company in Lansing. We actually have your best interests in mind.
75 years ago, we built things to last forever. Contractors were comparable acrossed the board. You could take a dart and throw it at the phone book and almost 10 out of 10 times you'd get a quality contractor. Now, you'd be hard pressed to get it 2 out of 10 times. Marketing has become more about making the company rich, and truly nothing about the consumer, accept to get your attention. Apparently it is doing exactly what it was designed to do. And that doesn't bode well for the people.
If other HVAC companies were doing what I am doing, that would make it a level playing field. My job is harder than theirs because they are making it harder for me, but it only works for them because we are a small company, so the few jobs we take from them are not hurting their pockets. But we are growing, slowly. It may take a decade for us to impact their bottom line, but it's the only way. We will not sacrifice our standards and sell the consumer short